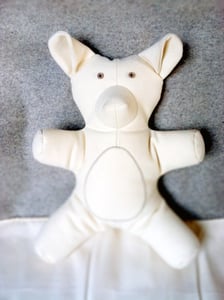 $

75.00
This is the Australian wool cousin of our standard, The Grey. We use the same thickness of felt, but the buff is a little bit more stiff and breaks in a little differently.
100% Buff wool felt, vintage buttons and PLA fiber stuffing (corn!).
Wolf&Bears are approximately 21" tall and 16" wide.
Each bear is handmade and therefore slightly different from all others. Slight imperfections are welcomed in the process of making Wolf&Bears.